Care and Cleaning of Coleman Sleeping Bags
Author: Coleman Date Posted:21 May 2020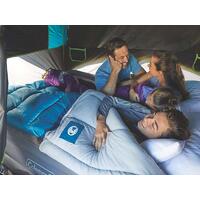 A few easy tips on how to get more life out of your sleeping bag.
Proper care of your sleeping bag will keep it looking better and lasting longer. Follow these simple suggestions to care for your Coleman® sleeping bag during the years to come.
Dry Cleaning - Dry cleaning is NOT recommended.
Washing Instructions:
Use only oversized commercial front loading washing machine with a rotating drum action - DO NOT use top loading agitator style machines.
Wash warm, rinse cold on gentle cycle using ¼ mild detergent.
Use a fabric softener in wash. (Do not use detergents with bleach.)
Tumble dry at low temperature in oversized commercial dryer.
Alternate method: hand wash in bathtub, follow instructions as in #2.
Bag must be thoroughly dry before being stored.
Rolling:
Zip up sleeping bag.
Fold in half, lengthwise.
If applicable, fasten toggle and loop to ensure bag stays in folded position.
Start rolling snuggly from opposite end of ties, loops or straps (whichever applicable). Have ties lying directly on the ground.
After rolling bag completely, secure ties, loops or straps. If bag has Wrap 'N Roll feature, continue rolling into attached carrier, tie and transport.
Storing:
For longtime storage, it is not recommended to store sleeping bags in its stuff sack or carrier, since it can reduce the loft, or puffiness, of the bag over time.