Top Tips for Camping with your Dog
Date Posted:2 February 2018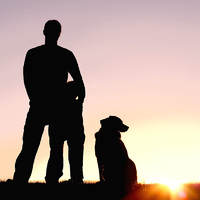 There's nothing like camping with your best and furriest friend – watching them explore and sniff strange and new place and meet new and interesting people. Cuddling up with them by the fire. But the last thing you need to happen is to be caught off guard by being unprepared. So we've compiled a list of our top tips for camping with dogs.
Check your camp ground allows dogs
Make sure your dog is microchipped, collared and your details are up to date
Ensure your dogs worming, flea and especially tick treatments are uptoate.
Always keep your dog on its leash – you might love your dogs soggy hello kisses but other campers and wildlife might not appreciate them as much
Bring an extra long rope/leash and a strong peg to give your pup room to roam around your camp
Take your dog on all your adventures, don't leave them tied up at the campground
Pack plenty of food and water for both you and your pooch
Popup bowls make great water and food bowls for pets and helps keeps your storage space down.
Bring a brush – all sorts of things are going to get stuck in its fur
Some doggy luxuries – like toys and a comfy camp bed to make them feel at home
Bring a pet first aid kit
Make sure to pick up after your dog – and bring extra bags to do so!